Save time, money and disruption with our unique spray-coating system by repairing or resurfaceing worn and damaged worktops.
We can professionally refinish your existing out of date kitchen worktops or cabinates with a smooth, durable, semi-gloss spray-on finish that looks beautiful and is non-porous making it very easy to clean.
By resurfacing your worktops you will not only be saving money in these hard times but you'll also be saving the environment. Most worktops and cabinets are in great shape except that they are tired, dated, worn, or damaged with burns, cuts or chips. A clean fresh updated finish on these areas can drastically change the look or your kitchen or bathroom and prevent landfill sites becoming increasingly full.
With our complimentary no obligation in home quotation, we make the
process
risk free and easy for you the home owner. Our friendly staff will bring
colour samples
right to your home to ensure that your new worktop or cabinates are complimentary with the rest of your décor. We will also explain the
process
, measure your worktop, or cabinates, answer questions, and provide you with an actual price that is valid for 60 days. We are confident in our service and pricing and encourage you to investigate your options.
Surfaceglaze provide quality craftsmanship and the best warranty in the industry.
Our team of experienced professionals can quickly and easily repair or completely resurface your bathroom fixtures to make them look like new.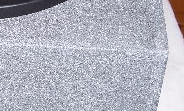 Any fixture resurfaced or repaired.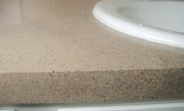 Benefits of Resurfacing
Our process applied on your ceramic tile creates a protective non-porous barrier to eliminate unsanitary mould and mildew buildup, promoting a clean, fresh environment for your family and guests.
Save time, money and hastle
Environmentally Friendly
Repairs including burns, chips, cuts, nicks, dents, cracks and water damage
On average we are 50% of the cost of having your worktop or cabinates replaced
Average kitchen takes approximately 4 hours to resurface
Full warranty for 5 years from the date of resurface
No waste disposal fees
Nothing being dumped into landfill
No damage to backsplashes or walls
No plumber required
Worktopstops and Cabinates ready to use in hours
All work carried our on your premises
All staff are fully trained and certified
The Process – Kitchen Worktop Refinishing
Once you have had your complimentary in home consultation and have chosen the colour best suited to your décor, a technician is scheduled for your resurface.
The average resurface time is 1-2 days depending upon size of your kitchen and number of cabinets.
Step 1: Home Arrival and Surface Preparation
Repair any minor damage including chips, dents, cuts and scratches
Cleaning your cabinets to ensure that they are free of grime
Removal of cabinet doors and hardware
Proper taping and providing coverage of your backsplash, walls, floors, counters etc… to ensure that only your cabinets are re-coloured

Step 2: Adhesive Primer Application

An epoxy adhesive primer is sprayed directly on the cabinets and doors ensuring that the colour of the original cabinets is covered as well as new colour will permanently bond. The adhesive is a quick drying solvent leaving the cabinets ready for colouring in just 15 minutes. Doors maybe spray onsite at your house or maybe taken to the Countertop Makeover spray booth for refinishing.

Step 3: Top Coat Application

The topcoat is a modified acrylic urethane and is sprayed on the cabinets and doors in light layers.



Step 4: Masking Removal & Door Replacement

Once the cabinets and doors are dry, the technician will remove the tape and plastic and replace the hardware and doors.



Step 5: Warranty & Payment Options

The technician will provide you with a written warranty, care instruction, invoice, and payment options.


Water Based Product
Our waterbased product line consists of a waterbased adhesive, granite look colouring, along with a waterbased sealer offers an environmental solution. Our water based product is an eco-friendly product line that adheres to your existing countertops. The process consists of a waterborn base adhesive, water based colour, and a water based clea rcoat seal.
This process is best suited to those who prefer a matt or satin finish on their counters, want to make an environmentally conscious choice, or have certain sensitivities.
A wide range of colours to choose from...
We hold a large range of colours and effects that can either be applied to match your current decor or give you a whole new look. Our advisers will be able to show you a coolection of the latest trends when they visit. If you have a more specific requirement please don't hesitate to ask.

Glacia White

White Vein

Silverstone

Granite

Charcoal

Midnight Sky

Fossil

Goldmine

Dessert Bone
Boulder

Almond Crust

Sanstone

Limestone

Mesa Stone

Marble

River Rock

Clay

Fieldstone

Cliff

Beach Sand

Galena

Landslide

Telluride

Java
The samples above show some of the more popular coatings. Please note due to digital limitations colurs and effects below are representitive only.
Photo Gallery...

The images below show examples of how we can transform you kitchen worktop to look like new.

Click on any image to see a larger version.